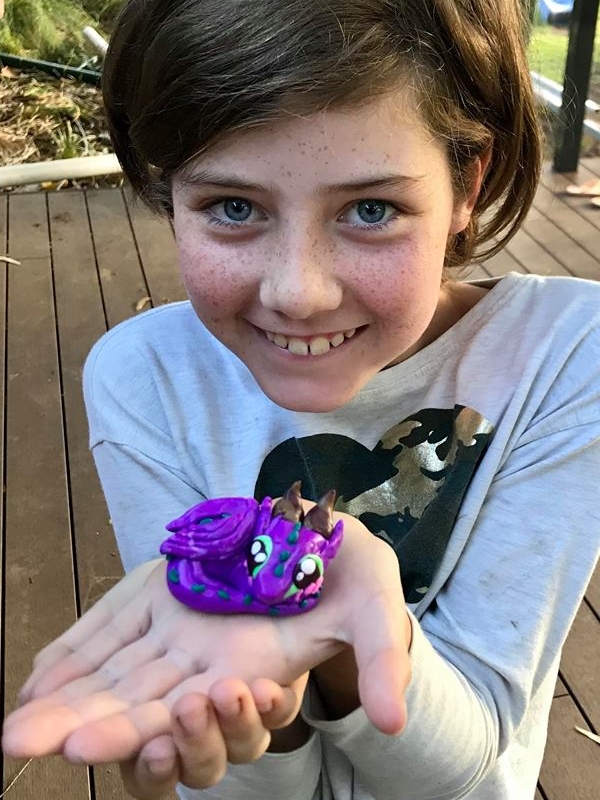 Honorary Team Member Grace O'Neil, Age 11, from Adelaide, South Australia - First Time Competitor
IT GIVES ME great pleasure to introduce Grace O'Neil, aka, 'Ace' as our very special guest and honorary team member… and possibly the youngest ever competitor at the Australian Body Art Festival.
Ace is the daughter of Kristy O'Neil, and at 11 years old, she's already showing incredible talent with her art creations.
Aside from drawing and painting with watercolours, Ace loves face painting too.
"I've always liked face painting because mum has been painting as long as I've been alive!", says Grace.
"Face Painting is colourful and there's nothing you can't create."
While Ace hasn't yet done any official face painting gigs yet, she says she's keen to give it a go alongside her mum, like big sister Leila.
But for now, Ace is excited about her first time and experience at the festival.
""I can't wait!"
Please join us in supporting Ace O'Neil as she competes at the Australian Body Art Festival in Cooroy on Sunday, April 7 in the Face Painting category.
******************************************************
Meet our Sponsored Artist: Kris O'Neil
Meet our Sponsored Artist: Yeni Redding
Meet our Sponsored Artist: Lorna Nickels
Meet our Sponsored Artist: Sam Lahy
*************************************
About Team Face Paint Shop Australia and our Artist Sponsorships
Representing a mix of talent, novice, experience and enthusiasm, #teamfacepaintshopaustralia will be loud and proud at this year's event, with 5 artists, 6 models, and a support crew to keep us all in line (good luck with that!).
This is the third year we've offered an Artist's Sponsorship Package, which includes entry fees and accommodation, as well as product.
"It's an honour for me to pay it forward and bring face and body artists together to enjoy the celebration of our 'industry' at the Australian Body Art Festival," said Kate, owner of Face Paint Shop Australia.
"As you might expect, there's a lot of costs involved to attend an event like this, especially when traveling interstate, so I'm happy to ease the burden for our artists."
Individual sponsorship packages are valued $750 per artist.
"It's not just about the financial assistance though. I think the team support factor really helps first time competitors to push themselves beyond the comfort zone and make the leap from dreamer to do-er.
"I'm both humbled and excited to have such wonderful people to share the experience with and represent my business."
The Australian Body Art Festival is an annual celebration of Face and Body Art, held in Cooroy on QLD's sunshine coast.
*******************
Would you like to see what's new at facepaintshopaustralia.com? Click here
Recent Posts
5 Mermaid Face Paint Designs to Try Looking for face painting ideas? We've surfed th …

5 Shark Face Paint Designs to Try Sharks are one of my favourite designs to paint and also a po …

5 Fairy Face Paint Designs to Try Looking for face painting ideas? Here's 5 Fairy face paint tu …