Description


Yes - this kit comes with a FREE online course!
Order this kit today and I'll include my online video training course - over 25 lessons, valued at $49 - FREE!
I'll show you how to face paint 10x popular designs for kids, plus the tricks and techniques I wish I knew when I started face painting over 10 years ago.
When you've completed my course, you'll be ready to face paint for:
♥ Birthday Parties
♥ Fundraisers
♥ School fetes and fairs
♥ Just for fun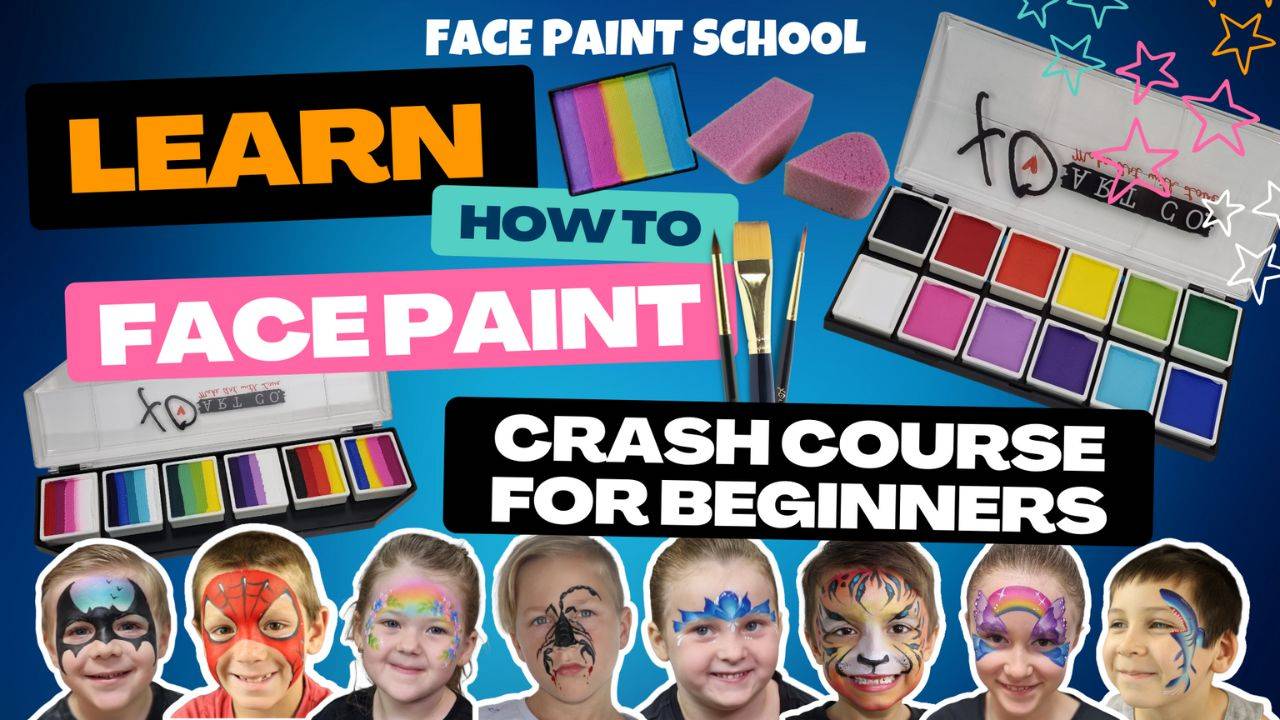 Watch the short video below to find out more
✅ This XO Art Co Face Paint Set
✨ 2x palettes pro-quality face paints
✨ 12x individual colours
✨ 6x mini split cakes
✨ 1x large rainbow face paint
✨ 3x pro-quality artist brushes
✨ 1x water mist bottle
✨ 2x face paint sponges
✅ Free Delivery - within Australia
✅ Free Gift Wrapping
✅ Hours of fun, colour, & creativity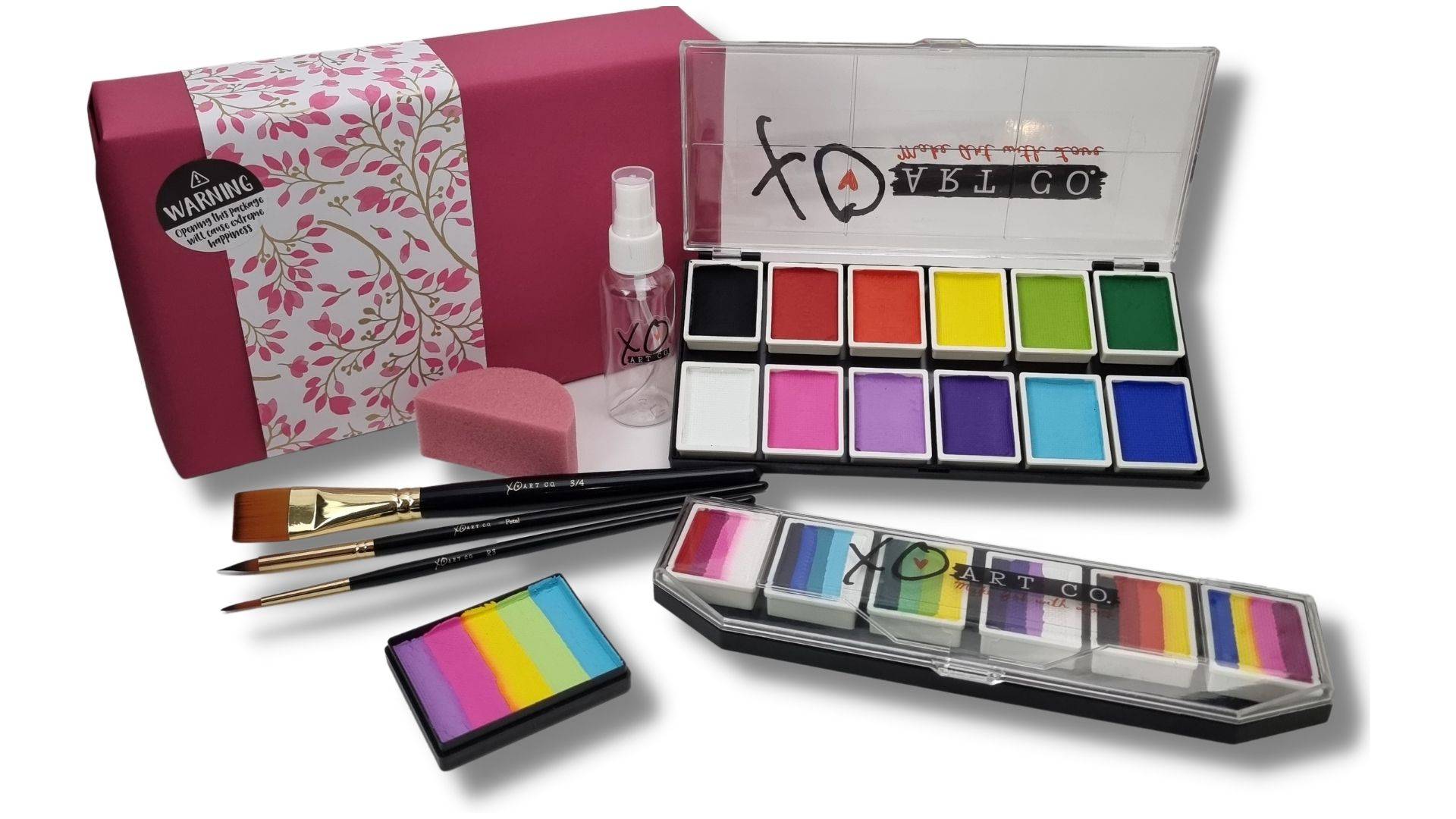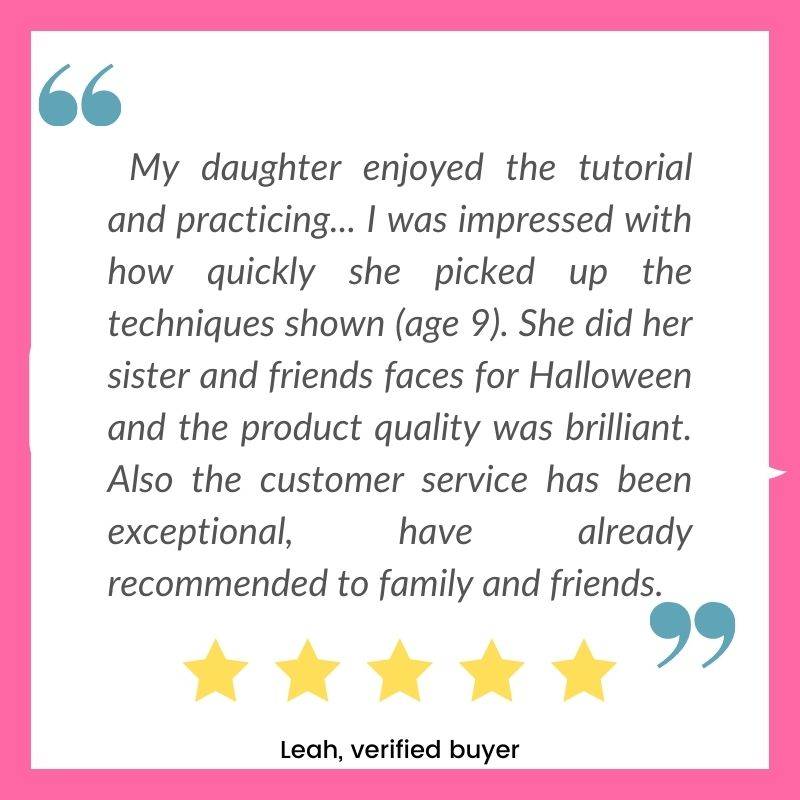 ✅ Online Video Training - Crash Course for Beginners
✅ 25+ lessons
✅ 10 popular designs - all "fast and fun"
✅ Get started, the right way, step-by-step
✅ Valued at $49, and included FREE with this kit
Face Paint Kit + Bonus Online Course
All for only $99
Imagine how excited the kids will be when you unpack this box of colours
Everything you need to get started in face painting!
✅ Creative face paint palette
✅ Elemental face paint palette
✅ Large rainbow cake "pretty rainbow"
✅ 3x Face paint artist brushes
✅ Water mist bottle & sponges
✅ Free Shipping (within Australia)
✅ Online training - Crash Course for Beginners
Take a look at our customer face paint art gallery... these are all first time face painters... you can do it too!
Q. What face paint designs will I learn?
Our Learn to Face Paint mini course is designed for complete beginners, and will be your quick start guide.
In addition to learning basic brush and sponge techniques for face painting, we'll teach you 10x simple and popular designs for kids, including:
Spiderman
Batman
Butterfly Mask
Elsa Crown
Shark
Scorpion
Rainbow Princess
Puppy Dog
Tiger
Flower Fairy
Q. How do I access the lessons?
Our lessons are delivered online, in video format. This means you will need a reliable internet connection capable of streaming videos.
There are 25+ x lessons in our introductory series "Learn to Face Paint - A Crash Course for Beginners" - and all lessons are available to watch and replay on demand.
You will be emailed instructions on how to access our lessons after purchasing this kit.
Q. I'm not an artist. Can I really do this?
You don't need to be an artist to enjoy face painting, I promise. Because I'm definitely not an artist, and it hasn't stopped me!
To be honest, 'great' face painting isn't about artistic ability. And it isn't about you, either.
Do you want to know the true secret of being a 'great' face painter?
In my opinion, it's understanding that it isn't about you. It's about the kids, and making them happy. Simple. Kids really don't care about perfect artworks! Trust me, I've painted thousands of them.
Of course, using the same paints and brushes the professionals use will make a big difference to the end result - I honestly think you'll be surprised at the difference in quality when you try what we offer - because the stuff you get at the craft store is pretty crap. And with Amazon, there's no way of really knowing what type of quality you'll get. Cheap is usually nasty.
So... the questions is: can YOU be a great face painter?
Yes, I believe you can. My lessons are designed for beginners. You'll learn all the simple brush strokes and techniques you need to create an unlimited range of designs, and I'll also guide you through creating 10 fast and fun face paint designs to get you started. It couldn't be easier.
And, if you want to explore the creative side of face paint and body art, then you certainly can. But start with the fundamentals. Quality products + quality tools + basic brush techniques.
If you remember that face painting is all about fun and making kids smile - you can't go wrong.
Q. How many faces can I paint with this set?
This is a water-activated face and body paint, and a little goes a long way.
Averaged out, the cost of using these face paints is likely to be no more than 5-10 cents per face. The enjoyment is priceless.
That being said, the number of faces you can paint with this set really depends on whether you're painting ONLY 'full faces', or 'cheek art'...
Most likely, you'll be doing both types of face painting, and my best guess (as a pro face painter of 10+ years) is that you could paint maybe 50+ full faces AND 100-150 cheek art designs with this pack, fairly easily. However, it's likely you'll need to replace the white and/or black at some point as these colours usually get used up first.
Q. Is this face paint non-toxic?
Yes, XO Art Co. Face and Body Paint is a cosmetic product, safe for use on skin.
XO Art Co. is an Australian owned brand - manufactured with non-toxic, skin-safe ingredients exclusively for Face Paint Shop Australia, established 2013.
Conforms to ASTM-D4236, and is FDA & EU (1223-2009) Compliant.
Q. Is this face paint ok for sensitive skin?
Yes, this face paint is safe for use on sensitive skin and hypoallergenic. It is a cosmetic product rather than a craft product.
Do not apply to sensitive or broken skin. Test by placing a small amount on the wrist, if reaction occurs within 30 minutes, discontinue use
Not recommended for babies under 3 years (choking hazard). Adult supervision advised for children under 8 years of age.
Q. How to store, and what is the shelf life?
Allow face paint to dry thoroughly before covering to protect from dust and contaminants. Do not store face paint when it is 'wet';
Store in a cool, dry, and well-ventilated place, away from direct sunlight;
A craft storage box is ideal. Alternatively, a fishing tackle box with a variety of different sized compartments is also a great storage solution for face paints;
Shelf life is noted on the label. Usually 12-18 months after first use.
PRO TIP: use a permanent marker to record the date of first use on the bottom of the jar or label for future reference.
Always read the label and follow the manufacturer's instructions
Children under 8 years old should be supervised by an adult
The ingredients in this product conform to ASTM-D4236. FDA & EU (1223-2009) Compliant.
Allergic reactions are unlikely, but possible. Discontinue if rash develops
Products should be kept in their original containers with product label for future reference
Avoid contact with fabrics. This product may stain
Calcium Carbonate, Acacia Senegal Gum, Glycerin, Polyvinylpyrrolidone, Paraffin, Petrolatum, Stearyl Alcohol, Sodium Benzoate, Dextrin, Water (Aqua), Disodium EDTA, Phenoxyethanol, Ethylhexylglycerin, PEG-32, may contain: +/- Iron Oxides (1332-37-2) (CI77491), Titanium Dioxide (CI77891), FD&C Yellow 5 (CI19140), FD&C Red 40 (CI16035), FD&C Blue1 (CI42090), Ultramarines (CI 77007), Mica (CI77019), D&CRed 6 (CI 15850:2), D&C Red 7 (CI 15850:1), Manganese violet (CI 77742), D&C Yellow 6 (CI 15985:1), D&C Green 5 (CI 61570), D&C Yellow10 (CI 47005:1), Zinc Oxide (CI 77947), Bismuth Oxychloride (CI 77163). Conforms to ASTM D-4236. FDA & EU (1223-2009) Compliant. Made in China. SDS (Safety Data Sheet) available for download here
Disclaimer: Due to variations in screen settings, lighting, camera settings and batches, any colours represented in our product images are approximate and are intended for display purposes only. Products depicted in images may not be shown to scale.
View All
Close