WELL PAINTERS! The big weekend of face and body paint is getting closer. Now you've met our sponsored artists, I'd like to share a little of my own story. But before I do, I'd like you to meet our team support assistant, Kaia Tebatt.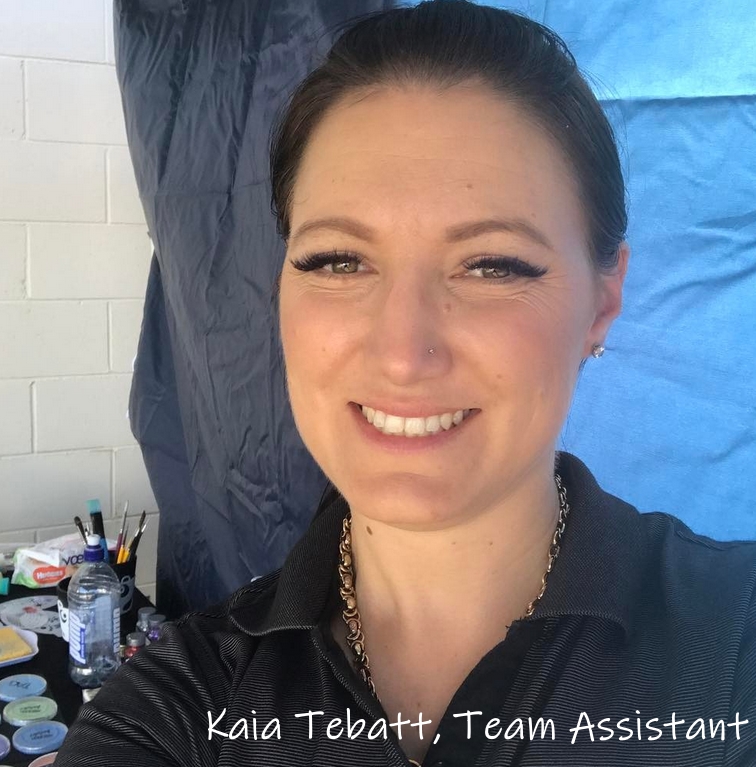 Kaia is a face painter who lives and works in Emerald, in the central highlands of Queensland. Kaia kindly volunteered to assist our team this year at the festival; her role is to make sure the artists and models are taken care of. She'll be responsible for keeping us hydrated, fed and caffinated, changing the water, taking progress photos, and keeping our socials updated. All very important stuff.
Next year, I hope she'll take the leap to competitor (playing assistant is a "gateway drug").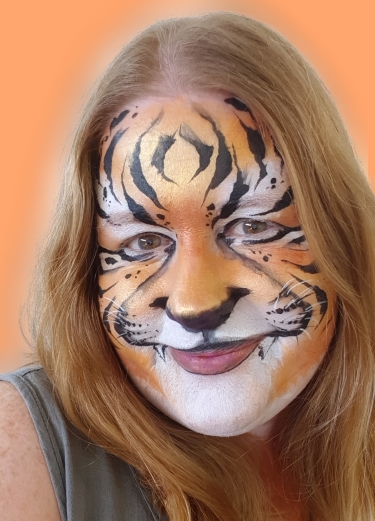 That's what happened to me!
My own style of face painting is fast and fun. I love to use onestrokes.
I've been face painting kids at my local markets in Yamba, northern NSW, since 2011.
So you can imagine, it's a real challenge to enter a competition that takes several hours to complete. That kind of time frame is extremely daunting for someone who gets the job done in around 5 minutes for most designs.
As for body painting, the only real experience I have with that is my entry into the brush and sponge category at the Australian Body Art Festival in 2018. That was the first, and only time, I've ever painted anyone head to toe. So this year will be my second attempt.
Am I nervous? Maybe a little, but I'm not putting any pressure on myself. I approach the event with the goal of having fun, as well as a personal challenge to do something outside the comfort zone. And I consider myself lucky to be working with experienced models, as well as having a team for support.
I think body art is such a unique artform. It lives. It breathes. It's three-dimensional. It's colourful. And it's transient, lasting only for the day. There's nothing quite like it. It's a collaboration between the painter and the model. Plus body art is out of the box. It raises eyebrows, and that's fun in itself!
As patron of #teamfacepaintshopaustralia, I am most excited to have the opportunity to throw my support behind Australian face and body painters, as well as promote the Australian Body Art Festival, which is one of the highlight events of my year.
And of course, I'm especially proud to introduce new artists to the competition arena by offering them the security of being part of an experienced team.
Let's do this!
Kate Matthews will compete in Body Paint: Brush and Sponge as well as Face Paint categories at the Australian Body Art Festival 2019
Follow Kate on Instagram here: @facepaintshopaustralia
Kate will be painting model Lisa Bingley for body paint, and Donna Joy for face paint
Support: Kaia Tebatt, Emerald, QLD - follow Kaia on Instagram here: @mask_by_krt

*************************************
Meet our Sponsored Artist: Kris O'Neil
Meet our Sponsored Artist: Yeni Redding
Meet our Sponsored Artist: Lorna Nickels
Meet our Sponsored Artist: Sam Lahy

Meet Honorary Team Member: 11yo Ace O'Neil
*************************************
About Team Face Paint Shop Australia and our Artist Sponsorships
Representing a mix of talent, novice, experience and enthusiasm, #teamfacepaintshopaustralia will be loud and proud at this year's event, with 5 artists, 1 junior entrant, 7 models, and a support crew to keep us all in line (good luck with that!).
This is the third year we've offered an Artist's Sponsorship Package, which includes entry fees and accommodation, as well as product.
"It's an honour for me to pay it forward and bring face and body artists together to enjoy the celebration of our 'industry' at the Australian Body Art Festival," said Kate, owner of Face Paint Shop Australia.
"As you might expect, there's a lot of costs involved to attend an event like this, especially when traveling interstate, so I'm happy to ease the burden for our artists."
Individual sponsorship packages are valued $750 per artist.
"It's not just about the financial assistance though. I think the team support factor really helps first time competitors to push themselves beyond the comfort zone and make the leap from dreamer to do-er.
"I'm both humbled and excited to have such wonderful people to share the experience with and represent my business."
The Australian Body Art Festival is an annual celebration of Face and Body Art, held in Cooroy on QLD's sunshine coast.
*******************
Would you like to see what's new at facepaintshopaustralia.com? Click here
Recent Posts
5 Mermaid Face Paint Designs to Try Looking for face painting ideas? We've surfed th …

5 Shark Face Paint Designs to Try Sharks are one of my favourite designs to paint and also a po …

5 Fairy Face Paint Designs to Try Looking for face painting ideas? Here's 5 Fairy face paint tu …